Golden Doodle Dandy
Why golden doodles? Our journey into this world started seven years ago when we went looking for a family dog for ourselves. We were concerned about our son's asthma so a friend of ours recommended to us a "poodle mix" dog. We had never heard of such a combination. We wanted a larger dog that was family friendly and non-shedding (who ever heard of such a thing!?!). Those requirements led us to our first goldendoodle, and then a year latter to our second one.
Along with the help of a breeder friend who walked us through the first two litters and a wonderful local vet, we decided to breed our mamas in order to make these wonderful dogs available to more families like ours. Weather you are looking for medical reasons or just simply for the convenience of not having hair everywhere we know that you will enjoy your new family member as much as we have.
Our Family to yours, Heart 2 Heart!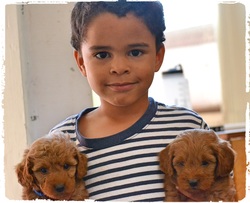 We are located in the georgous Wisconsin countryside not too far from the Twin Cities. Our family of six boys provides plenty of love to our new pups before they come to you. Your new family member will be ready to play when they get home! Our puppies are started in on crate training and the beginning stages of learning about being house broken. Each pup comes with their own shot record, a wonderful training book to help you get started and enough food to get them switched over to whatever you choose for them. When possible we will send them home with a piece of their sleeping blanket or familiar toy for those first few nights away from their brothers and sisters.
---
chEck out
You can use this button to send your deposit or the Travel expense to us directly. The balance of the puppy cost is to be paid upon pick up or delivery of the pup. Those details will be made with each individual family. If you have any questions about our pups or our payment process please feel free to use the form below to contact us.
​